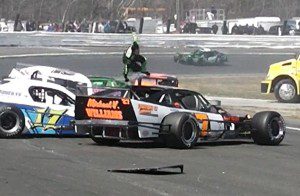 Vault Productions have compiled the most watched webisodes from the 2013 season.  Their webisode series 'Sid's View' is filmed primarily at the Waterford Speedbowl and shot from a fan's perspective on raceday throughout the season.  2013 was the 4th season of the series and the first shot entirely in hi-definition.
MOST WATCHED SID'S VIEW WEBISODES – 2013
Blast Off SK Modified 63 (Nicole Morgillo confronts Ted Christopher after wreck)
Unlike Anywhere Else (Keith Rocco/Rich Staskowski Late Model wreck)
Ladies First (Nicole Morgillo & Victoria Bergenty win on same night)
Melting Down in the Heat (Glenn Griswold confronts Corey Barry after wreck)
Head Scratcher (SK race after which Jeff Rocco & Tom Abele Jr said they wouldn't return)
Flippin' Craziness (Mark Cooper confronts Speedbowl officials after Dillon Moltz penalty)
Everybody Just Relax (Phil Evans/Ted Dupre Street Stock incident)
Outlaw Stock Special (wild 3-wide finish)
Sat Night Opener (Tyler Chadwick beats Kyle James)
A Finish by Inches (Rocco beats Chadwick by .001 seconds)
Other noteworthy production notes:
The Blast-Off SK Modified 63 webisode is currently the 5th most watched webisode ever.
Unlike Anywhere Else webisode is currently the 7th most watched webisode ever.
Cementing the Win webisode from SK Modified open at Seekonk (MA) Speedway in June is the most watched of any webisode this season shot outside of the Waterford Speedbowl
Bud Nats SK 150 webisode from Labor Day weekend featured 30 different cameras, 26 of which were in-car cameras, the most ever used in one event to date.
Another One for the Record Books from the last event was the first Sid's View to have someone else mic'd up in the grandstands.  Mike Serluca filled in for Sid.